Your Patients are Our Concern
Salude offers only the best in post-acute transitional care facilities specializing in physical recovery and rehabilitation. It is the perfect place for your patients to recover. We are licensed as a skilled nursing facility, but we operate with many features similar to acute care and acute rehabilitation settings and have excelled in clinical and quality outcomes since opening. We developed and opened Salude in July of 2014 to be the preeminent transitional care and physical recovery facility in the Atlanta metropolitan area and plan to develop this unique concept in other markets throughout the country.
Clinical Outcomes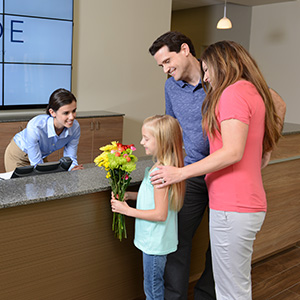 Salude focuses on each individual patient with the utmost care and services to ensure we work together so that the patient can work toward independence as soon as possible. Currently, over 96% of patients return to a home setting at final discharge, and our re-hospitalization rate for all patients is 10% and even lower with managed care patients. Additionally, our composite patient satisfaction scores rank between 95-100% in 2019.
At Salude, we are a proud partner of the renowned Aegis Therapies Company. They are the provider of all rehabilitation services at Salude. As a comparison, with over 1,000 Aegis Therapies rehabilitation sites nationally. Salude patients experience almost 11% greater improvement in Rehabilitation Outcome Measures while doing this in 20% less time. (This data is from Aegis Therapies, 2019.)
Salude partners with multiple specialty physicians and surgeons in the Atlanta metropolitan area and uses physician or group-specific protocols. Our services are provided for your patients through partnerships with the following experts and practices:
Full-time physician Chief Executive Officer on staff directing clinical care
Nurse Practitioner coverage up to seven days per week
Two Primary Care provider groups on staff
One Infectious Disease Physician on staff
Physiatrist (rehabilitation physician) on staff
Full-time receptionist and concierge
Communication at discharge with patient's primary care physician and/or specialist physician
Nurse practitioner meets with patient and family to follow-up and ensure patient has proper care at home
Convenient pre-registration services available with a link on website
Mobile point of care system for in-suite care and immediate documentation
Immediate assessment by a physician within the first 36 hours of arrival to understand medical needs
Partnered with two home health care companies on rotation unless patient has another preference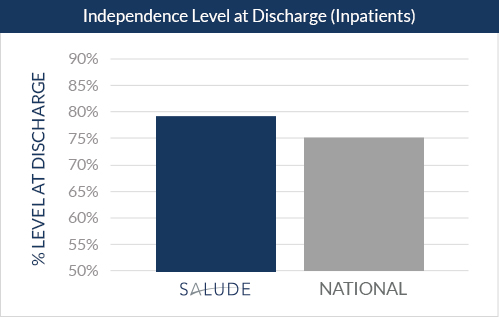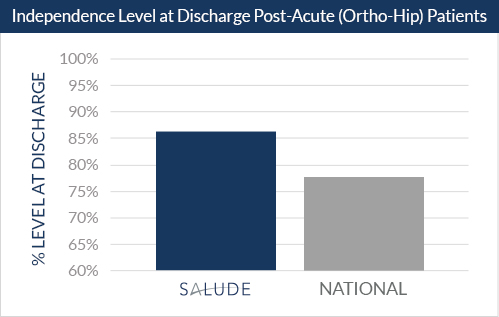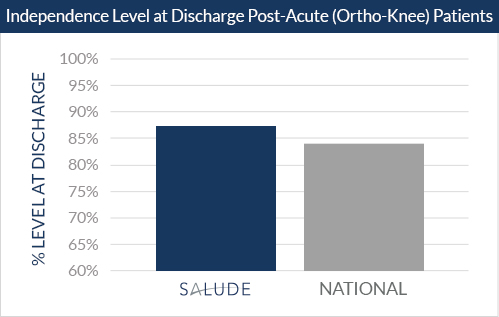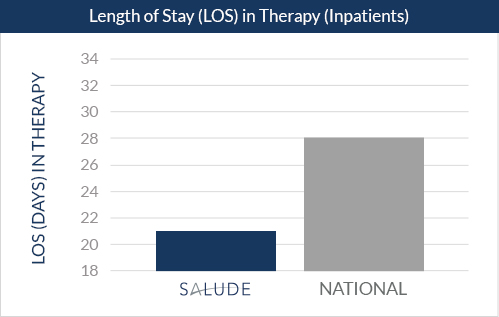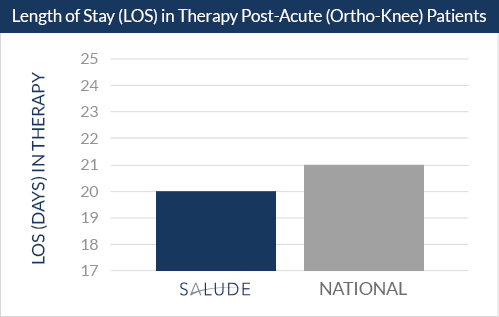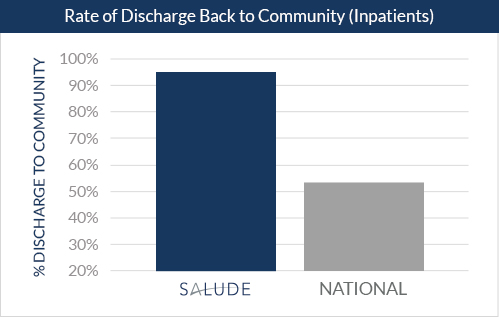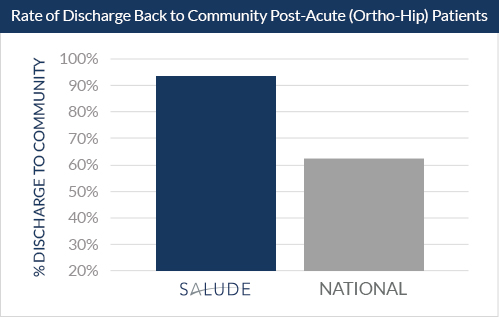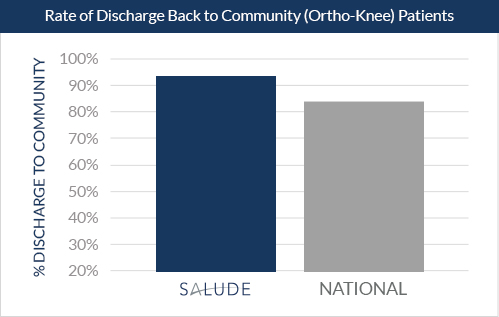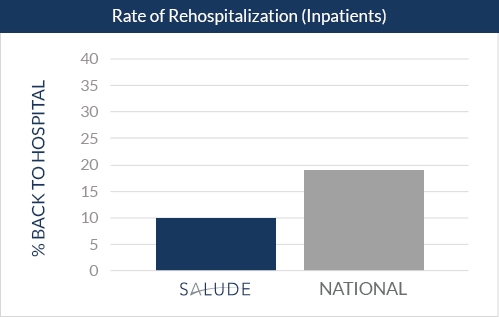 *Data from Aegis Therapies for over 1,000 locations nationwide in 2019.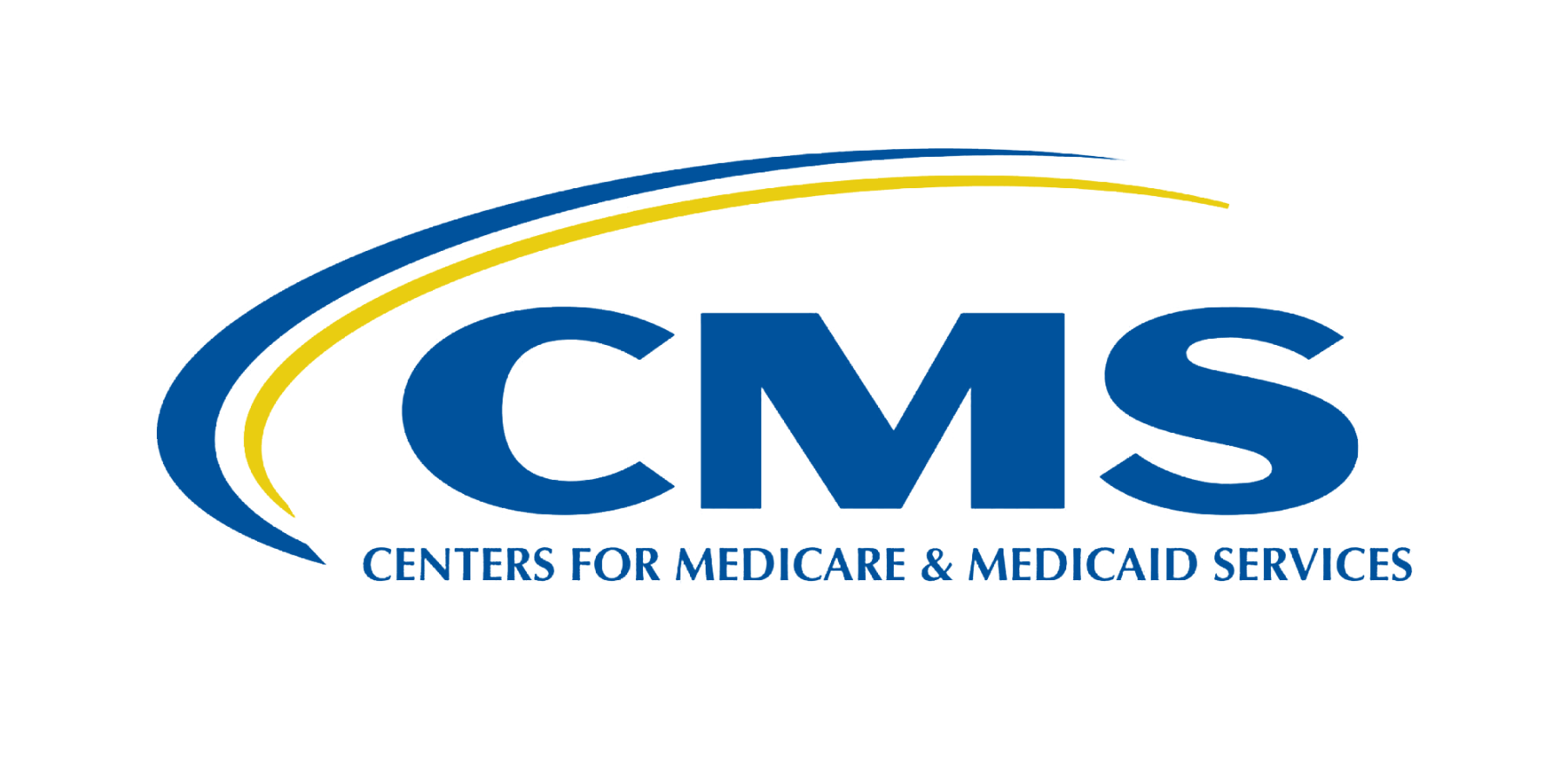 Clinical and Hospitality Education Initiatives
In an effort to continue clinical care excellence and deliver excellent clinical results, Salude is committed to continuous clinical and customer service training. Some of the current initiatives include:
Orientation of all new hires to a new building, policies, procedures and hospitality focus (includes general orientation, competencies and CIA required training)
Licensed nurses training on Nurse Core Competencies. All licensed nurses have completed medication administration, G tube, oxygen use, diabetes management, skin integrity and CPR competencies. Remaining competencies completed within 90 days of hire.
Licensed nurses have completed competencies in IV usage, CHF, COPD, EKG usage, Coagucheck, insulin pens and basic tracheotomy care.
Aegis Enhanced Orthopedic Program training
We also encourage and invite our hospital and medical partners to work with our staff on a variety of educational programs. Please contact us if you have any suggestions or ideas for further education of our staff or yours to become better informed for our patients' overall success.​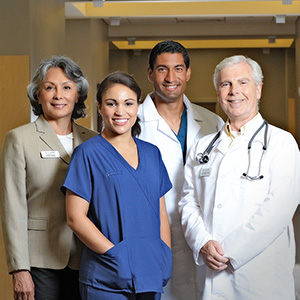 Pharmacy Services
We combine clinical excellence, comprehensive care and beautiful surroundings to provide an ideal setting for your patient's recovery. Our pharmacy services are provided through the following practices:
On-site pharmacy with access to over 300 medications.
Our staff utilizes the most sophisticated electronic medical records system.
Concierge pharmacy at discharge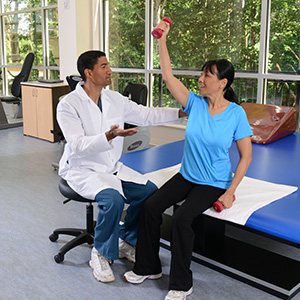 Therapy Services
Our goals at Salude are to operate with unparalleled clinical care and state-of-the-art therapy and medical equipment with the finest in modern luxury and resort amenities in a tranquil, professional setting. These services are provided for your patients through partnerships with the following experts and practices:
Aegis Therapies® provides physical rehabilitation seven days a week with therapies up to three hours per day (based on your insurance coverage and your progress) for our patients with one-on-one therapy.
Physiatrist (rehabilitation physician on staff)
Physical, occupational and speech therapists on staff
The latest therapy equipment including HUR®, Moveo™ XP, BioStep® and AlterG® Anti Gravity Treadmill® (See our Comparison Chart)
We Want to Ensure Availibility for Your Patients After Surgery
Provide your patients with the Pre-Admissions form so they may secure a suite at Salude
Pre-Admission