"We're really moving post-acute care into the future by helping very complex patients recover quickly and safely."
Dr. Alan L. Wang
MD, SFHM, FACP / Chief Executive Officer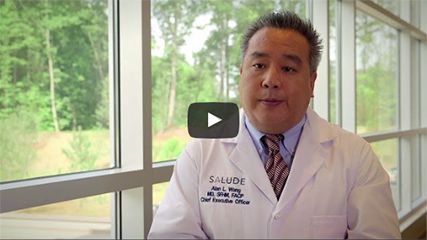 A Message From Dr. Wang
Dr. Alan L. Wang graduated with his M.D. in 1996 from Emory University School of Medicine in Atlanta and completed his internal medicine residency at the University of Texas Southwestern Medical Center at Dallas in 1999. He is also board certified in internal medicine by the American Board of Internal Medicine.
After completing his residency, Dr. Wang returned to Atlanta to help start the Emory Hospital Medicine Program, serving as Site Medical Director at various locations from 1999-2008.
From October 2008 to July 2013, Dr. Wang served as the Director of the Emory Section of Hospital Medicine. Under his leadership, the Division of Hospital of Medicine grew to be the largest academic hospital medicine program in the country and the largest hospitalist system in the state of Georgia.
From April 2007 to 2012, Dr. Wang served as the first Chief Medical Officer of Emory Johns Creek Hospital.
During his career, Dr. Wang has been recognized by a number of awards, including the 2004 Outstanding Teaching Award from the Emory Family Medicine Residency Program, the 2006 Emory Hospital Medicine Community Service Award, the 2008 Emory Hospital Medicine Mark V. Williams Award for Overall Excellence in Hospital Medicine and the 2015 Gwinnett Healthcare Excellence Award for Physician of the Year (specialist). He is also a Melvin Jones Fellow from Lions International, largely due to his volunteer work in helping establish an indigent clinic for immigrants in Chamblee, GA. Dr. Wang is also a Senior Fellow in Hospital Medicine and Fellow of the American College of Physicians.
Dr. Wang brings to Salude a passion for leadership and team development, improving transitions of care between the acute hospital setting and post-acute care settings as well as a commitment to providing clinical excellence to every patient in our care.
---
Plan Your Recovery at Salude™
Complete our pre-admission application or schedule a personal tour of Salude to view our facility, meet our staff and learn more about how we can help with your recovery.