January 08, 2016
ATLANTA (Jan. 8, 2016) – Salude Chief Executive Officer Alan Wang, MD, SFHM, FACP won the Gwinnett Chamber Healthcare Excellence Award in the Physician of the Year – Specialist category. The winners in each award category were unveiled at the annual Healthcare Excellence Awards ceremony on Dec. 15 at the Infinite Energy Forum in Duluth emceed by WSB-TV's Jocelyn Dorsey.
The program recognizes excellence and innovation and honors the efforts of individuals and organizations making a significant impact in the healthcare community. The finalists provide examples of best practices to emulate in providing quality healthcare.
"It is an honor to be recognized among industry leaders and humbling to be picked as Physician of the Year among so many talented physicians in the category," said Salude CEO Dr. Alan Wang. "We appreciate the community's recognition and support and look forward to another exciting year in bringing the best healthcare to our patients at Salude."
"Access to quality healthcare is one of the most important factors in determining a community's quality of life," said Dr. Dan Kaufman, President & CEO of the Gwinnett Chamber. "Not only does it affect every individual on a personal level, but it is also considered a strategic economic development tool for attracting companies to relocate to or expand and invest in Gwinnett County. A readily available, well-trained workforce will have its pick of the best jobs in Gwinnett's healthcare arena. For fast growth communities such as ours, it is critical to have a quality healthcare system with state-of-the-art-technology supporting it."
Dr. Wang helped start the Emory Hospital Medicine Program. He served as site medical director at several locations in Atlanta. From October 2008 – July 2013, he served as the director of the Emory Section of Hospital Medicine. Under his leadership, the Division of Hospital of Medicine grew to be the largest academic hospital medicine program in the country and the largest hospital medicine system in the state of Georgia.
Dr. Wang has brought a passion for leadership and team development to Salude, improving transitions of care between the acute hospital setting and post acute care settings. He has shown a commitment to providing clinical excellence to every patient. Since opening in July 2014, Salude has admitted well over 1,000 patients providing outstanding outcomes in terms of quality and patient experience. Dr. Wang is a Senior Fellow in Hospital Medicine and Fellow of the American College of Physicians.
The Physician of the Year category recognizes an individual who has exhibited excellence by giving outstanding patient attention and responding to the needs of their families, while also leading a top-performing practice.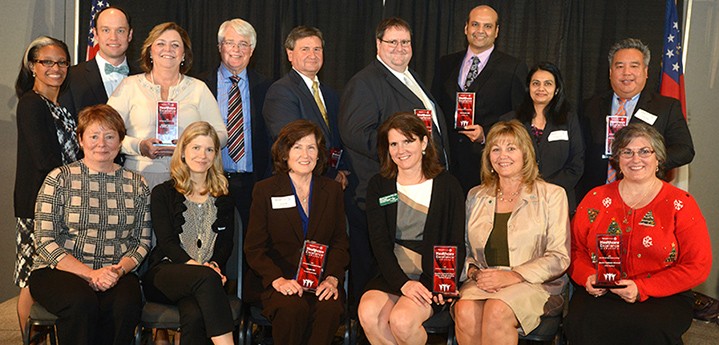 Recipients were as follows: Community Leadership—Carolyn Hill, Gwinnett Health System; Corporate Achievement—Georgia Gwinnett College's School of Health Science Program; Executive Administrator—Thomas Shepherd, Gwinnett Medical Center; Healthcare Agency—Gwinnett Pediatrics & Adolescent Medicine; Healthcare Professional—Beverly Friedlander Ostrowski, VITAS Healthcare; Physician of the Year—Uday Parikh, DDS (Dentist); Physician of the Year—Kevin Johnson, MD, FAAFP, Gwinnett Medical Center (Primary Care) and Physician of the Year—Alan Wang, MD, SFHM, FACP, Salude (Specialist).
For more information about this event, please visit HealthcareExcellenceAwards.com.
Categories
AwardsMedia CoveragePhysician SpotlightPress ReleaseWellness & Health Tips
Media Contact
Alan L. Wang, MD, SFHM, FACP
Alan.Wang@Salude.com
770-904-3221
Audio

Transitional Care, Cardiology Services and Rehabilitation, and Hospital Medicine
1 hr 11 min
Dr. Wang of Salude, Dr. Kunjummen of Atlanta Heart Specialists, and Dr. Austin of Gwinnett Medical Center Hospital Medicine
Transitional Care, Cardiology Services and Rehabilitation, and Hospital Medicine
1 hr 11 min
Plan Your Recovery at Salude™
Complete our pre-admission application or schedule a personal tour of Salude to view our facility, meet our staff and learn more about how we can help with your recovery.