May 17, 2017
Gwinnett County (METRO ATLANTA) GA – Salude has been recognized as a leading area organization by being named a finalist for an IMPACT Regional Business Award in the categories of Healthcare and Small Business.
Designed to be reflective and unique to Gwinnett and across metro Atlanta, the program pays tribute to premier organizations in top industries that are driving economic development and job creation, while enhancing our quality of life.
"This awards program recognizes the wonderful work that goes on in our community, and we are honored to be among the finalists for the Healthcare and Small Business awards," said Salude's Chief Executive Officer Dr. Alan Wang. "We focus every day on providing quality care and rehabilitation services to our patients, and we appreciate being recognized by our peers in the community for the excellent work of our caregivers."
Recipients will be selected in the following sectors:
AEC (Architecture, Engineering & Construction)
Education
Healthcare
Hospitality
Information Technology
International
Nonprofit
Service
Small Business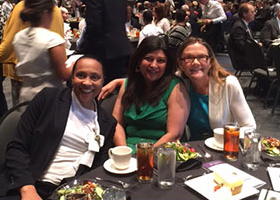 On Wednesday May 10th, Dee Desai, Executive Director; Madelyn Terry, Director of Nursing; and Wanda Prince, Senior Vice President Clinical Services attended the IMPACT Regional Business Awards ceremony.
"Bringing together leaders across these important industries is another example of how the Gwinnett Chamber can fulfill its mission to serve as a community forum," said Dr. Dan Kaufman, President & CEO of the Gwinnett Chamber. "We are honored to provide a platform that showcases these excelling organizations, which are what makes the metro region a leader in so many areas."
The awards ceremony was held 11:30 a.m. to 1:30 p.m. Wednesday, May 10 at the Infinite Energy Forum. An overall IMPACT Regional Business Awards recipient will be selected from one of the above category winners.
Categories
AwardsMedia CoveragePhysician SpotlightPress ReleaseWellness & Health Tips
Media Contact
Alan L. Wang, MD, SFHM, FACP
Alan.Wang@Salude.com
770-904-3221
Audio

Transitional Care, Cardiology Services and Rehabilitation, and Hospital Medicine
1 hr 11 min
Dr. Wang of Salude, Dr. Kunjummen of Atlanta Heart Specialists, and Dr. Austin of Gwinnett Medical Center Hospital Medicine
Transitional Care, Cardiology Services and Rehabilitation, and Hospital Medicine
1 hr 11 min
Plan Your Recovery at Salude™
Complete our pre-admission application or schedule a personal tour of Salude to view our facility, meet our staff and learn more about how we can help with your recovery.